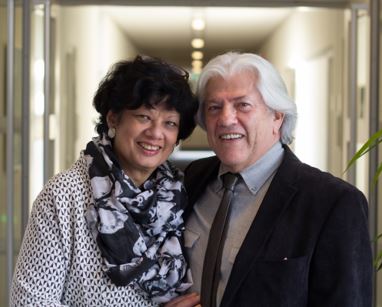 Carlos Nunez and Raya Nunez Mahdi are lecturers and authors of the textbook Intercultural Sensitivity, published by Royal van Gorcum, Assen, Netherlands. https://www.amazon.de/Intercultural-sensitivity-denial-intercultural-competence/dp/9023251334
Carlos Nunez is Colombian. He has a B.Sc. in Architecture and a M.Sc. in Urban Planning from Delft University of Technology, specialising in Computer Modelling for Management Decision Making. Carlos developed team-introduction simulation games using cultural diversity as leverage for improved decision-making. He gave Pre-departure training to managers on international assignments, and he lectured Operations Management and International Business at Rotterdam Business School, Utrecht University of Applied Sciences and Sorbonne University in Paris.
Raya Nunez Mahdi is Indonesian, and grew up in Thailand, China, Indonesia, Russia, the Netherlands and Germany. She studied Cultural Anthropology at the Humboldt University in Berlin, Germany, and gained her B.A and M.A in Social and Medical Anthropology at the University of Amsterdam. Raya trained international managers in intercultural skills at the Royal Tropical Institute in Amsterdam, lectured Intercultural Management, Organisational Behavior and Global Citizenship at Utrecht University of Applied Sciences, and Intercultural Communication at Sorbonne University in Paris.